Exploring Agricultural Banks' Potential for Local Farmers
Feb 3
For farmers and agricultural communities to grow and prosper, agricultural banking is crucial. By giving farmers access to lines of credit and financing for projects, working capital, and infrastructure development, agricultural banks support farmers.
When it comes to increasing farm profit, having access to agricultural banking services is an important consideration that is sometimes disregarded. This financial structure enables farmers to borrow money, invest in securities, and create additional income by purchasing crops and agricultural equipment.
Local farmers, agricultural companies, and rural communities may find the stability and financial security required for success by using the possibilities provided by agricultural banks. This article will examine how agricultural banks may assist farmers' businesses and local communities' efforts to achieve food security and sustainability while promoting economic development.
Role of Agricultural Banks
Financial organizations known as agricultural banks specialize in offering a range of services to farmers and businesses involved in agriculture, including loans, financing, credit, and insurance. Agribusiness banks may aid farmers by giving them access to low-interest financing, which can help them improve their operations and grow their companies.
Agri banks may help rural communities by making it easier to get financing for infrastructure. Financial accessibility may also promote economic development in these areas.
Agricultural banks also provide a range of other services that farmers may take use of, such as technical assistance, assistance with managing their money, and assistance with company expansion. In the long run, this may help farmers increase their profits and maintain their sustainability.
Agricultural banks may furthermore provide its customers access to risk-management instruments like crop insurance, which aid farmers in minimizing losses due to natural disasters like floods and droughts. 
Benefits of Unlocking Agricultural Banks' Potential
Local farmers that make the most of agricultural banks may benefit from a variety of benefits. Farmers who have access to cash and finance may be able to expand their operations and increase output, which will improve their financial outcomes and increase their capacity to compete in global markets. Furthermore, being able to get low-interest loans may help farmers finance their plans, which can reduce their entire cost of production.
Agricultural banks can provide a range of technical, financial, and business development services that may help farmers manage their operations and take advantage of existing market possibilities. By doing this, they may be able to increase their productivity, reduce their risks and costs, and bring in money for their local economies.
Additionally, increased access to cash may help localities finance infrastructure upgrades and job creation, boosting the local economy and fostering sustainability and food security.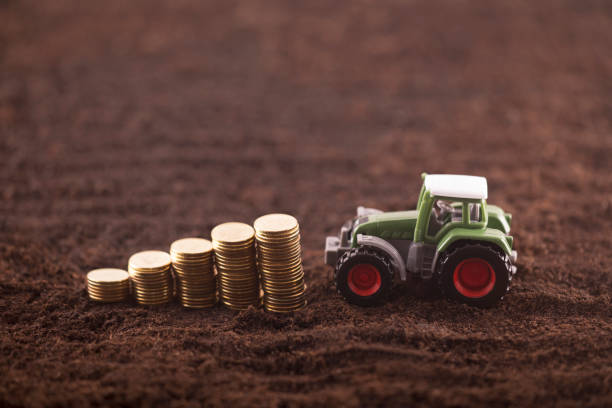 Agriculture Bank Challenges
Despite the potential benefits offered by agricultural banks, a number of problems must be handled before these organizations can completely live up to their promise for local farmers. These challenges include:
Obtaining Finance
It is difficult for local farmers in rural regions to get finance from agricultural banks since many of them lack access to cash management services. This might be particularly concerning when it comes to credit or loans since agricultural banks might not be able to approve savings accounts, cash advances, or other types of lending options that are often available in more urban locations.
In order to help them, cash management services must provide these fundamental services in rural regions. This might provide farmers with access to chances for loans and credit from agricultural banks in addition to assisting them in managing their cash flow.
Regulatory Constraints
Constraints may make it harder for agricultural banks to provide for their clients and finance farmers. This category includes financial accessibility restrictions including minimum capital needs and maximum interest rates.
Lack of Knowledge
Due to a lack of knowledge and awareness regarding agricultural banks' benefits, farmers may find it difficult to take use of them. Furthermore, a lack of awareness of agricultural banking regulations may make it difficult for banks to expand their service offerings.
Strategies to Unlock the Potential of Agricultural Banks
Several methods must be put into place in order to maximize the potential of agricultural banks for nearby farmers. These tactics consist of:
Strengthening Credit Access
Farmers need access to a variety of funding alternatives in order to maximize the benefits of their operations. Banks may provide low-interest credit, short-term loans, and long-term funding to make investments in their company initiatives conceivable, even though some may be able to pay for out-of-pocket expenses.
Banks must simplify the credit approval procedure while ensuring that ag loans are simple to get. Through all phases of their harvest cycles, doing so will provide farmers the financial flexibility to more easily and efficiently invest in better tools, cutting-edge technology, and sustainability projects.
Increasing Technical Support
Banks must make technical help available to farmers, including services for risk management, business planning, and financial management.
Presenting New Goods and Services
Banks have the ability to significantly contribute to the support of agriculture and the enhancement of farmer livelihoods. In fact, new financial services should be offered to cater to the demands of regional farmers. This might include cutting-edge services like microfinance initiatives that facilitate access to modest loans and rural banking services that make it simpler for farmers to obtain financial services.
Additionally, banks may provide agricultural extension services, expanding the range of courses available on farm machinery and other technology. By offering these services, banks can guarantee that agriculture is no longer seen as a way of life but rather as a sector with enormous potential for economic development.
Increasing Technology Access
To increase access to technology, which has the potential to assist farmers simplify their operations, banks must concentrate on agribusiness. Banks will provide rapid and efficient access to useful services by offering mobile banking apps as well as financial literacy education and training. This could lower the expenses related to running agriculture enterprises.
Farmers must be aware of all the financial possibilities to which they may have access. Banks may promote agricultural reform that benefits their communities by connecting agribusinesses with cutting-edge financial solutions.
Making Use of Technology
To automate procedures and boost efficiency, banks must use technologies such as artificial intelligence, big data, and blockchain.

Modernization's Effect on Agricultural Banking
The emergence of modern financial services and the advancement of technology have a significant impact on agricultural banking. By employing technology, agricultural banks may reduce service costs, transaction fees, and enhance farmer access to finance. Automated processes also save paperwork and improve the efficiency of financial services.
Modern banking services like mobile banking and online banking have made it easier for farmers to obtain financial services from anywhere. Big data and artificial intelligence may help banks make better decisions by assisting with data analysis. This would result in more effective and efficient financial services.
Digital Solutions' Potential
By using digital technologies like mobile banking and online banking, banks may be able to overcome the challenges associated with delivering conventional financial services. Thanks to mobile banking, farmers in remote areas may have simpler access to financial services and reduced expenses. Internet banking may also provide customers with access to a range of services, such as loan applications, deposits, and money transfers, which may reduce transaction costs for farmers.
Additionally, the use of digital technology may help banks increase the efficiency of their operations. For instance, automated processes may save administrative costs and paper effort. Additionally, by assisting banks in understanding the demands of their customers, analytics may help them make better decisions.
Developing Collaborations with Local Farmers
In order to fully fulfill the potential of agricultural banks for regional farmers, banks must establish ties with local farmers and other stakeholders. Banks must work with farmers to understand their needs and provide those needs with customized services and products. Additionally, because doing so may increase client loyalty and promote long-lasting relationships, banks should work to create strong connections of trust with their customers.
Banks should work with local governments, nonprofits, and other stakeholders to develop strategies that may help farmers access the money they need. Examples of this include the development of regulations and initiatives that may facilitate financing and reduce service costs.
Increasing Interaction with the Government
To provide farmers more inexpensive finance and better services, the government and commercial institutions must collaborate. Farmers must be given access to long-term, low-interest financing from governments and financial organizations. The laws and rules governing low-interest lending should be simplified by cooperation between governments and financial organizations.
Farmers would benefit from an incentive plan that combined government and banks. Tax reductions, financial incentives, and other benefits might reduce their capital expenses and increase their capacity for investment.
Local farmers and agribusinesses rely on agricultural banks for funding. If utilized properly, these facilities may be advantageous to farmers, agricultural enterprises, and rural regions. The purpose of this research was to examine how agricultural banks may help communities achieve food security, economic growth, and farmer commercialization.
Local farmers must have better access to loans, technical support, cutting-edge goods and services, technology, financial literacy, efficient technology usage, and sustainable farming methods in order to take full use of agricultural banks' potential.
Local farmers, collaborative government policy, and social impact investment might help banks get the money they need. Agricultural banks might assist nearby farmers in realizing the potential of these financial institutions and building a more stable and sustainable future by putting these concepts into effect.
To know more about the agricultural banking and its potential for local farmers, check this blog post out from Farm Plus Financial: https://farmloans.com/farm-news/unlocking-the-potential-of-agricultural-banks-for-local-farmers/