Sports
Armstrong, Tierney, Christie out of play-off after constructive take a look at
Stuart Armstrong, Kieran Tierney and Ryan Christie will miss Scotland's crucial Euro 2020 play-off semi-final against Israel on Thursday after Armstrong tested positive for coronavirus.
Armstrong is to isolate for 10 days while close contacts Tierney and Christie are required to self-isolate for 14 days from Tuesday, October 6.

Thursday 8th October 7:00pm


Kick off 7:45pm

As well as the Israel match, the trio will also be absent for Scotland's Nations League matches at home to Slovakia and the Czech Republic on October 11 and 14 respectively.
A Scottish FA statement confirmed Armstrong initially tested negative when arriving for Scotland training on Monday, but then saw a supplementary UEFA test return a positive result on Wednesday morning.
All other members of the squad returned negative results, but Tierney and Christie – plus one physiotherapist and one masseur – were all deemed to have come in close contact with Armstrong.
Scotland head coach Steve Clarke also revealed defenders Scott McKenna and Liam Palmer, plus attacker Oliver Burke, will miss all three matches through injury.
Clarke said: "We have lost six players from the squad. It is up to us to make the nation smile tomorrow night. We know we have the nation behind us."
Tierney out of Man City clash, Christie to miss Old Firm derby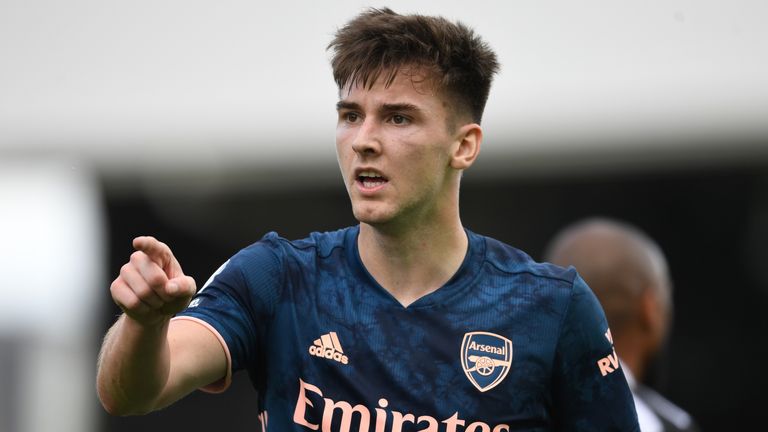 Image:
A 14-day isolation means Kieran Tierney is also set to miss Arsenal's match at Manchester City on October 17
The 10-day period of self-isolation for Armstrong means he could return for Southampton in their next Premier League match at Chelsea on October 17.
For Arsenal defender Tierney however, the 14-day self-isolation means he is set to miss their league match at Manchester City on October 17, live on Sky Sports.
Celtic midfielder Christie – who scored in Scotland's 1-1 draw with Israel in September – is set to miss the Old Firm derby against Rangers, also scheduled for October 17, live on Sky Sports.

Saturday 17th October 11:30am


Kick off 12:30pm

Arsenal and 'frustrated' Tierney seeking clarification
An Arsenal statement confirmed the club want more details as to why Tierney has been asked to self-isolate, claiming their player was socially distant "at all times" from Armstrong.
It read: "Our medical team have confirmed that Kieran was socially distant at all times from the player who tested positive and has broken no rules regarding COVID-19 protocols. We are currently seeking further advice and clarification of the details."
The statement added Tierney told the club: "I'm so disappointed and frustrated to be in this situation. I have adhered to all regulations and made sure I was socially distancing from my team mates in the hotel. I've also tested negative. I know Arsenal and the SFA are now in discussions with the Scottish authorities to gain a further understanding."
Clarke: No Braveheart speech, I'll be calm
Clarke confirmed Southampton, Arsenal and Celtic have been informed of the results, and the Scotland head coach finds himself preparing for a play-off semi-final without six key players with a hat-trick of injuries also hampering his plans.
Armstrong, Christie, McKenna and Palmer all started in Scotland's last match, a 2-1 win in Czech Republic, while Burke was on the bench with Tierney, who did start the Israel match prior.
"I have some difficult decisions to make, some other decisions to make in terms of team selection which really is my main focus now," Clarke said.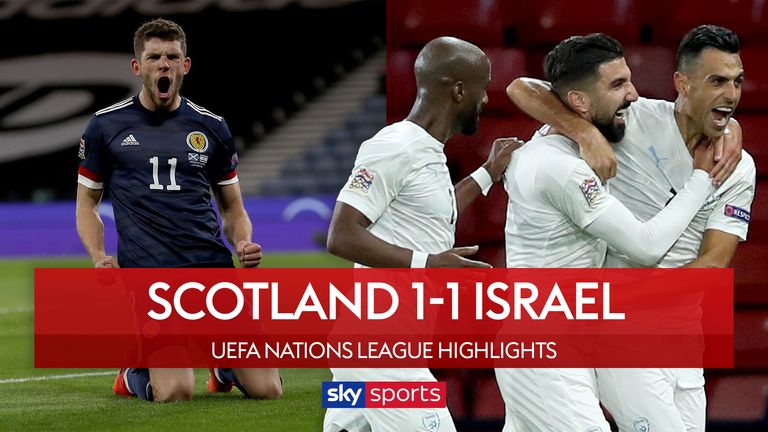 2:53



Highlights: Ryan Christie was on target last month when Scotland met Israel in the Nations League
"Hopefully everyone involved will come through with no issues, the health of anybody is more important than any game of football. I have now spoken to all three players involved in the situation, they are very disappointed not to be involved in such a big game. Everyone else has had a negative test.
"Now as the national manager I have to make sure we get the team on the pitch in the right frame of mind and ready to go for a positive result.
"We were working towards one team and now we have to change that. We moved the training back to this afternoon. We have a little bit of time to work on one or two different things, one or two different players coming into the team that maybe didn't expect to play.
"Although it is disappointing for the ones who have had to drop out because of the situation, the ones who are going to get a chance to play – what an opportunity. I am not really one for big speeches. I trust my players, their mentality and attitude to get it right on these big occasions.
"Rather than a big Braveheart speech it will be calm, measured words to try and help them get through the game and get the right result for the country."
Robertson: We must pull together
Captain Andrew Robertson said his side must "focus on football" despite the disruption.
"We can't control what has happened, nobody can," the Liverpool defender said. "We can't get the three players back unfortunately. That is the cards we have been dealt and we can't change that. We all need to pull together now. It's up to us to focus on football now.
"The manager called up everyone up because they are good enough for Scotland. We know what is at stake. There is an incentive there tomorrow night. Whatever team the manager puts out will all be motivated."

Sunday 11th October 7:30pm


Kick off 7:45pm

Scottish FA chief executive Ian Maxwell added: "We were made aware of the positive test this morning and I reiterate Steve's view that the health and safety of those involved is paramount. We will maintain constant dialogue with Dr John MacLean to ensure that those who are required to self-isolate are given the full support of the Scottish FA in conjunction with their clubs and employers.
"Equally, the protocols and procedures in place are designed to ensure that the remaining members of the squad – who have all returned two rounds of negative tests – can continue to prepare for the forthcoming matches in a safe and secure environment."
Celtic: Over-riding concern is for health of players and staff
Celtic issued a statement on Wednesday evening. It read: "Clearly we are disappointed and frustrated to learn of today's news, however, our over-riding concern is of course the health of the players and staff concerned.
"It is of course disappointing that this has arisen during the international break but it is something which shows the many challenges clubs currently face.
"Celtic's rigorous testing programme continues.
"The Celtic squad based at Lennoxtown have all again returned negative test results today. In addition all other players currently on international duty, outwith Odsonne (Edouard) as reported yesterday, have reported negative tests."