Sports
Perez on the Super League: we're doing this to save football
Real Madrid President Florentino Perez said the European Super League will "save football at this critical moment" and insists that players taking part in the competition will not be banned from representing their national teams.
The Spaniard's comments come after 12 leading European clubs that have committed to playing in a new tournament that will start "as soon as possible".
For the first time since the announcement, the new Super League chairman said football needed to evolve.
3:10


Sky Sports News's Bryan Swanson reacts to the announcement that England's Big Six are among 12 clubs that have agreed to join a new European Super League
"Whenever something changes, there are always people who oppose it. We are doing this to save football at this critical moment," said Perez on Spanish television program El Chiringuito de Jugones.
"Audiences are falling and rights are falling and something had to be done. We are all ruined. Television has to change so we can adapt.
"Young people are no longer interested in football. Why not? Because there are a lot of poor quality games and they are not interested, they have other platforms where they can get distracted."
Real Madrid are joined by La Liga rivals Barcelona and Atletico Madrid as well as Premier League clubs Manchester United, Liverpool, Manchester City, Chelsea, Arsenal and Tottenham.
The founding group of 12 is completed by the Italian clubs AC Milan, Inter Milan and Juventus. Another three are accepted as guaranteed members and five more qualify for membership each year.
Perez stressed that the top teams are losing money mainly due to the coronavirus pandemic and that the expanded Champions League announced by UEFA on Monday is not the answer.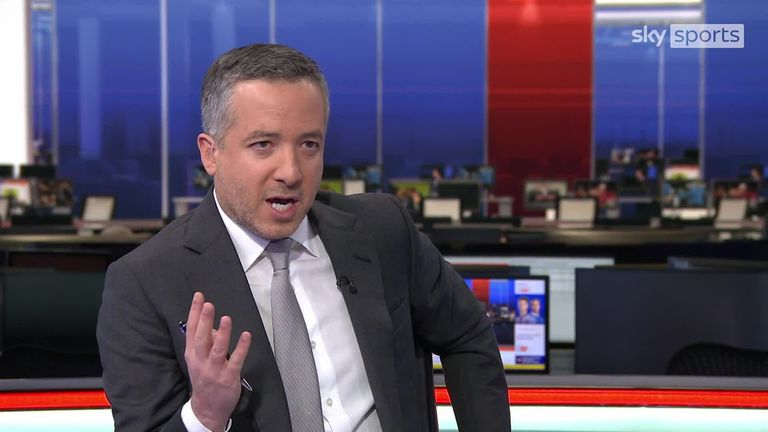 4:10


Why are top clubs trying to form a breakaway European Super League? Sky Sports News reporter Kaveh Solhekol explains
"If we go on with the Champions League, there will be less and less interest and then it will be over," he said. The new format, which begins in 2024, is absurd. In 2024 we are all dead.
"Together we lost 5 billion euros," he said of the alleged losses of the top clubs. "Madrid have lost € 400m in two seasons.
"If you have no income other than television, you say the solution is to make more attractive games that fans from all over the world can watch with all the big clubs and we have come to the conclusion that there is no such thing as a Champions League . " We have a Super League in which we can alleviate what we have lost. "
Perez also criticized UEFA President Aleksander Ceferin for saying earlier in the day that players entering the competition would be banned from the World Cup and the European Championship.
""[The players] can stay absolutely calm because that won't happen. Very calm, that won't happen, "said Perez.
When asked if Real Madrid will be banned from this season's Champions League, he added: "No, they will not be banned from the Champions League, that's for sure.
"It won't be Real Madrid, it won't be (Manchester) City, none of them will be expelled, that's for sure. I'm quite sure. Not from Champions (League), not from La Liga, nothing like that.
"If we can reach an agreement with UEFA, we want to start (the new league) in August. If not, we can wait a year."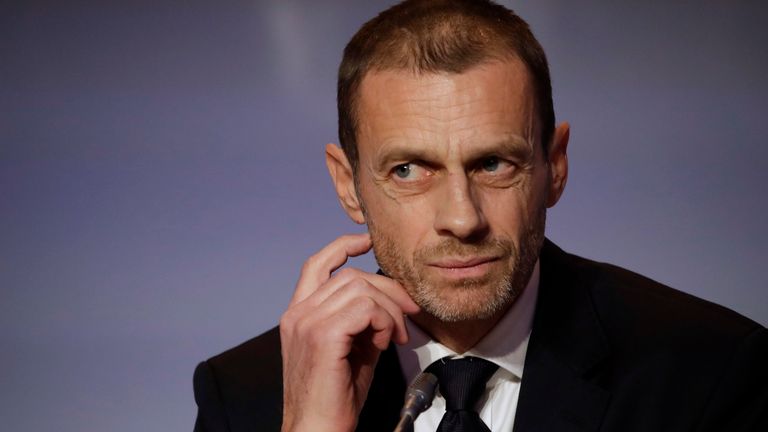 1:27


UEFA President Aleksander Ceferin says plans for a European Super League are "primarily driven by greed".
The move has rioted the football game and sparked widespread condemnation in both sport and society, but Perez brushed off the criticism and gambled away the prospect of bigger games.
"What is so attractive? That we play among the big teams, the competitiveness in order to generate more resources?" he added.
"This is not a league for the rich, it is a league to save football."
European Super League: the key questions
Six English teams are part of a breakaway European Super League, but what do we know so far?
What happened?
Twelve of Europe's leading football clubs have announced that they have agreed to launch a new weekday competition, the European Super League, run by their "founding clubs".
The proposal envisages that the clubs form their own competition in order to compete with the UEFA Champions League.
Which clubs are involved?
The six big clubs in the Premier League – Manchester United, Manchester City, Liverpool, Arsenal, Chelsea and Tottenham – are all involved.
AC Milan, Arsenal, Atletico Madrid, Chelsea, Barcelona, ​​Inter Milan, Juventus, Liverpool, Manchester City, Real United and Tottenham Hotspur have joined together as "founding clubs".
Three more clubs are expected to join before the opening season, which the clubs say "should start as soon as possible".
The German giants Bayern Munich and Borussia Dortmund are not there, as well as the French champions Paris Saint-Germain.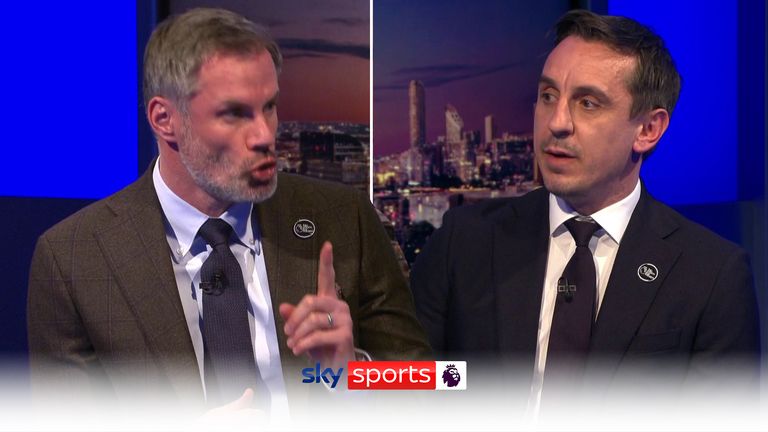 7:54


Gary Neville and Jamie Carragher strongly discuss their thoughts on the new plans for the European Super League and what it would mean for the future of football
Why did this happen now?
The clubs say that "the creation of the Super League comes at a time when the global pandemic has accelerated the instability of the existing European football economic model. In addition, for some years now, the founding clubs have aimed to improve the quality and intensity of existing ones European competitions during each season and creating a format for top clubs and players to compete against each other on a regular basis.
"The pandemic demonstrated the need for a strategic vision and sustainable economic approach to add value and support for the benefit of the entire European football pyramid."
However, Sky Sports News reporter Kaveh Solhekol says this has now happened for a reason and only for one reason.
"The reason it's happening now is because we've had a global pandemic and the finances of the biggest clubs in Europe have been hit," he said.
"I keep saying it's about money and if you look at the finances, a club like Man Utd who play in the Champions League, they make between £ 40m and £ 80m in a good year if they win.
"When they enter this new competition, they will first receive a check for £ 250 to 300 million. In the future, they will receive three times as much money per season as from the Champions League."
"They are watching TV rights of £ 200 to 250 million, they will be able to sell some of the rights to the games themselves on their own channels, broadcast rights around the world."